CAMIL ROCA
FOUNDER & EXECUTIVE CREATIVE DIRECTOR
Camil founded "K1000" on January 2020. A unique led project to collaborate with Advertising Agencies and Brands on creativity and strategy. In this pandemic year, Ogilvy Network comissioned "K1000" the Nescafé campaign worldwide.  Also in 2020, Camil collaborated with La Marato for the 23rd time. On 2019 Camil won 13 out 13 pitches for Ogilvy Barcelona.
Speaker at Ted Talks, Esade and UPF, Camil has been a regular collaborator on Radio Nacional de España. A qualified lawyer, Camil also graduated in Advertising and Marketing in E.A.E Barcelona and at U.C. Berkeley.
Camil Roca has created campaigns for Allianz, Nestlé, Pepsi, Levi's, Unilever, LaCaixa, Pirelli, Disney, PizzaHut, Danone, Swatch, Heineken, Baileys, etc. and has been a Jury Member at Cannes Festival, Eurobest, Buenos Aires, New York and London Awards.

Main Awards: 5 Cannes Lions; 9 Effectiveness Awards; 8 San Sebastián's; 10 New York Festival; 15 Fiaps.
BEA CARREÑO
ACCOUNT DIRECTOR
Bea has worked in multinational advertising agencies for more than 14 years, for clients like Nestlé, Unilever, Andorra Tourism, Laboratorios Esteve or TMB. She began her career at McCann, Euro RSCG (now Havas Creative) and Ogilvy, where she and Camil worked together for ten years.
​​​​​​​Currently, she collaborates with K1000 and values being able to balance her project-management career and her personal life.
JORDI ALAVEDRA
BRAND & COMMUNICATIONS CONSULTOR
After five years as a Bassat Ogilvy client at Akai, Jordi joined the agency in 1985 as an Account Executive. In 2005 he became Vice President of the Ogilvy Group in Spain, while maintaining direct involvement with most of the agency's clients, especially those whose communications have an international reach: Nestlé, Unilever, Mattel, Millennium BCP, etc.
In June 2015, Jordi decided to step down from his Ogilvy position, but he still continues his professional collaboration with them in Brand and Client Management as a senior freelance consultant on an outsourced basis. He also develops communications work for his own clients, in collaboration with other teams, and also dedicates time to teaching.
PAULA GRAELL
ART DIRECTOR
Paula is a freelance graphic designer and art director, who frequently collaborates with K1000.  She studied Graphic Design at CIC-ELISAVA and Illustration at BAU.  She started her career at Contratiempo BBDO and Ogilvy, where she met Camil.
Paula has worked in advertising for brands like Nestlé, Meritene, EKO, Allianz, La Marató TV3, or BAXI.
MARC COLOMBO
CREATIVE COPYWRITER 
Marc is a freelance creative copywriter who currently works for advertising agencies in the United States such as Lerma/ and BeautifulBeast. He started his career at MullenLowe, BBDO and Ogilvy, where he met Camil and they have been collaborating ever since.
He has worked for brands like La Marató TV3, The Home Depot US, Allianz, Nestlé, Special Olympics, TMB, FGC, Generalitat de Catalunya or the Colon Cancer Coalition, whose latest campaign #MissionToUranus reached more than 45 million views and was shown in Times Square NY.
His work has been awarded in El Sol, New York Festivals, Club de Creativos, Radio Mercury Awards, LUUM Awards, FePI, El Ojo de Iberoamérica, FIAP and the American Advertising Awards.
JOAN ROCA
MARKETING CONSULTANT AND 
BUSINESS SCHOOL PROFESSOR
Joan has been involved in marketing on a professional basis for more than 30 years as a Market Research Manager, Marketing Director and General Manager, among other things, in Henkel Ibérica, Colgate-Palmolive, IRI, Burger King, Eat-Out (Pans & Company, Bocatta, Fresh & Ready, etc.) and Personality Media.
He has been a professor at EAE-BS, ESIC, AEDE BS, KSchool, the Universidad Complutense de Madrid, and Nebrija University. He has also been responsible for mentoring End of Marketing Master Projects at OBS since 2013. Currently, Joan divides his professional activity between marketing consulting and teaching at business schools.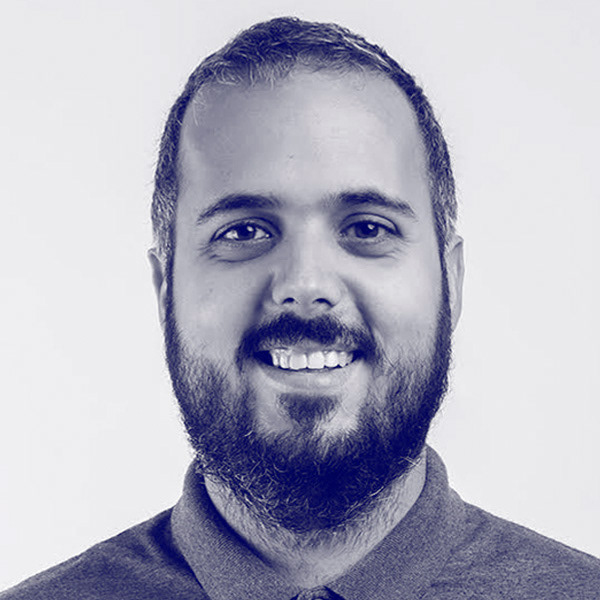 RAIMON BERTRAN
SENIOR ART DIRECTOR
A Senior Art Director with more than 15 years of experience working for first-class brands in different advertising agencies. Rai is always striving to add a contemporary visual appeal to the projects he works on and assuring this fits with the message.
​​​​​​​He is passionate about brand design overall and bringing his own essence to different graphic, digital, and audiovisual media.